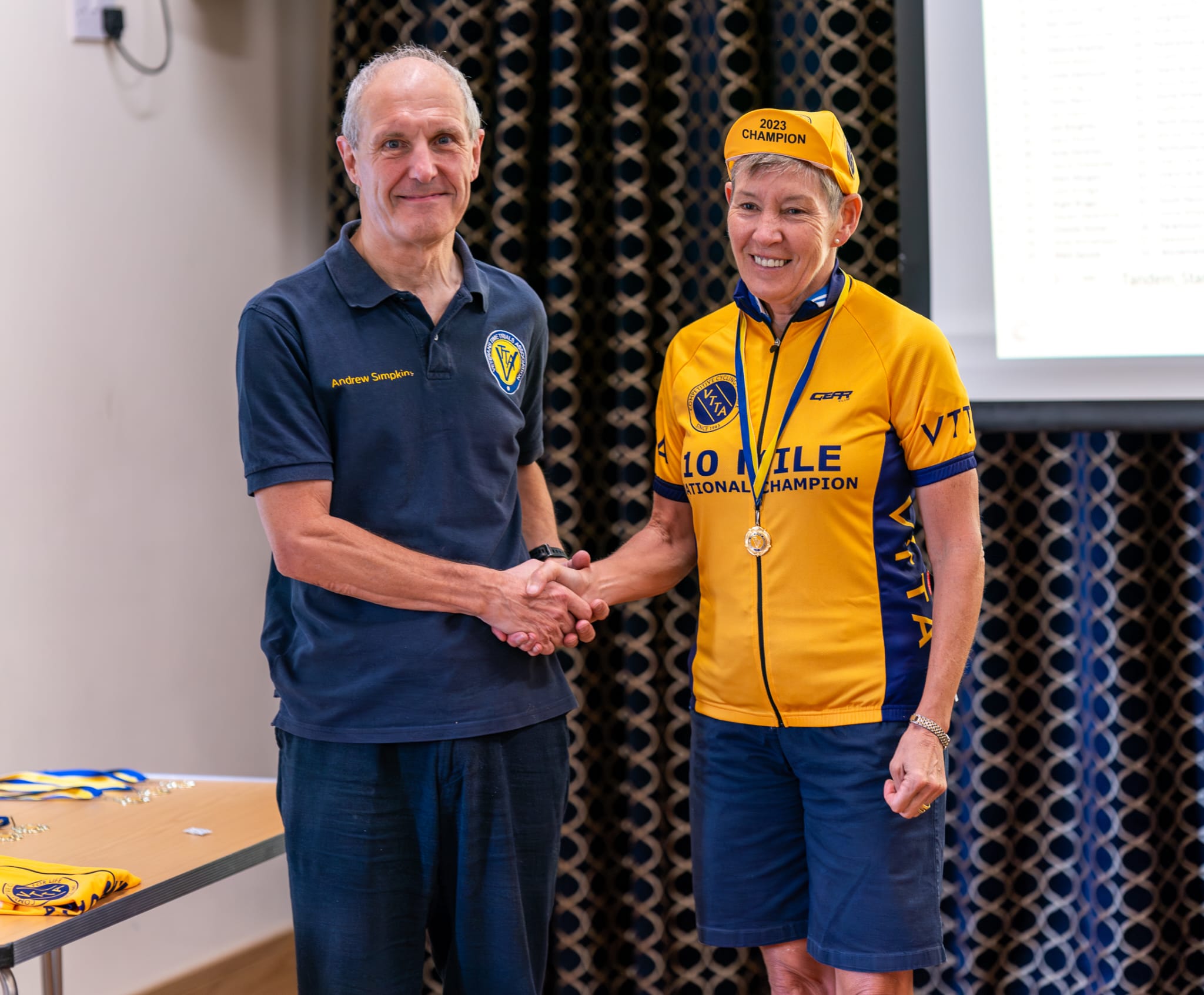 Conditions for the National 10 Mile championship were dry and mild but with a morning breeze that made things just a bit tougher on the rolling K48/10 course, north of Stafford. In the women's championship, Linda Dewhurst took another championship jersey as she continues her impressive form this season. The medals went to:
Gold: Linda Dewhurst (Team Milton Keynes, LH&C) – 24:27, AAT=19:27
Silver: Deb Hutson-Lumb (Wrekinsport CC, Merseyside) – 23:50, AAT=19:41
Bronze: Susan Semple (Legato Racing Team, Midlands) – 24:43, AAT=20:41
The men's championship featured riders from age 40 to 93. Only 18 seconds separated riders from 3rd to 9th but Ian Guilor took a clear win on the day but with a strong ride from Jon Howard in 2nd.
Gold: Ian Guilor (Mapperley CC, East Midlands) – 21:21, AAT = 20:03
Silver: Jon Howard (Team Echelon, Midlands) – 21:23, AAT=20:17
Bronze: Steve Gibson (Peak Road Club, North Midlands) – 22:02, AAT= 20:38
Best Club team was Legato Racing Team (Susan Semple, Simon Horsley, and Steve Loraine), justly rewarded for their regular presence at VTTA championships, ahead of Team Echelon and Congleton CC - My Windsock. The local group, Midlands, who fielded 23 of the 75 VTTA riders on the start sheet, took the Group team prize (Jon Howard, Susan Semple, and Tim Wood) ahead of East Midlands and Merseyside.
Thanks to Alastair Semple and Midlands Group for a very well-run championship. All went well although things were slightly complicated by two riders taking the wrong number when they signed in !