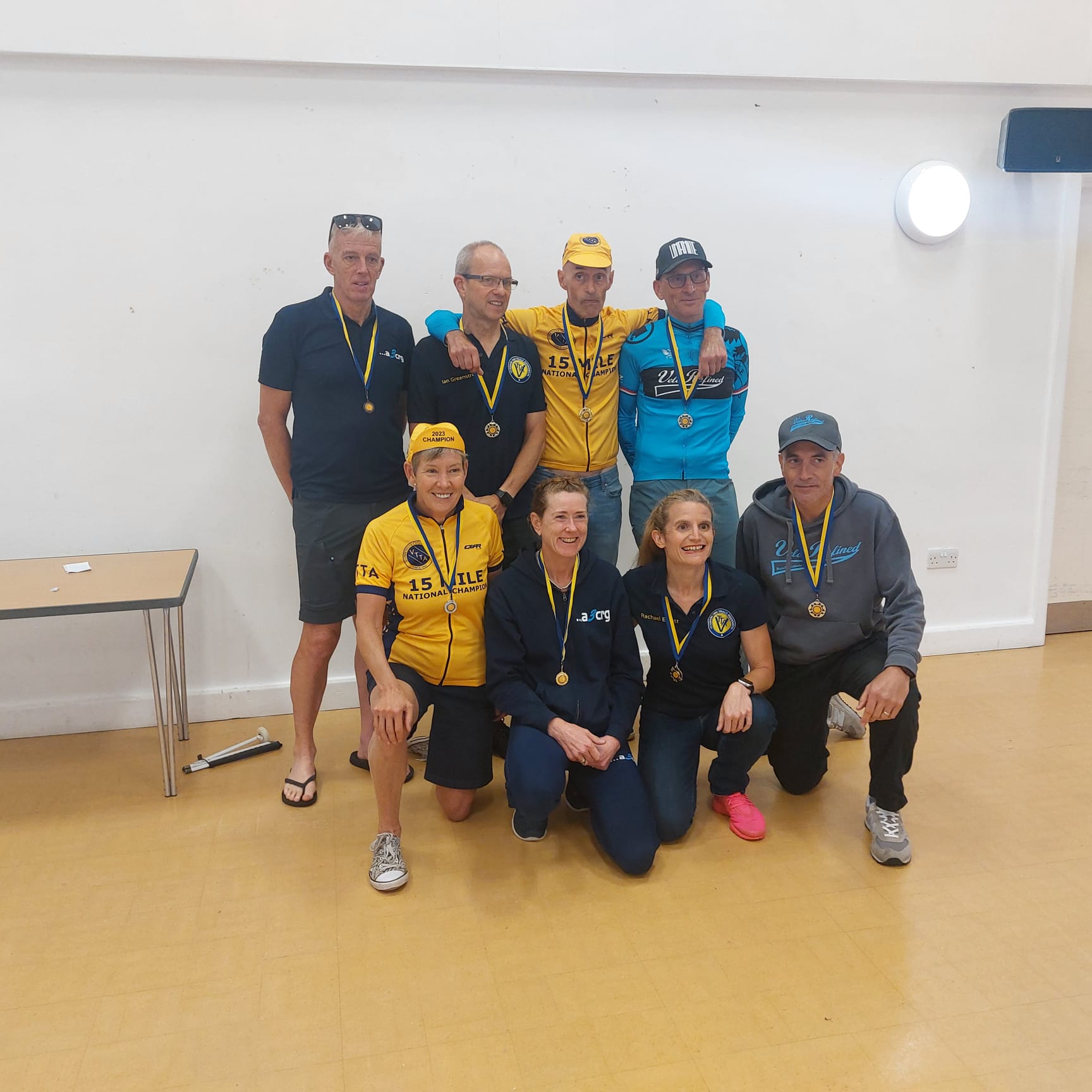 Congratulations to all riders who rode the rearranged 15 mile championship on Saturday 26th August, with particular congratulations (or commiserations) to those who rode in the middle of the field and faced a short but very heavy downpour of rain. For those who rode, the conditions on the F2 promised to be quick - and generally they were. Apparently, according to local experts, the wind needed to be a couple more degrees to the west for conditions to be at their best (and for the rain to hold off). Linda Dewhurst notched up another impressive win following her performances at the world championships. For the men, the Velo Refined team, and members of the Kent Group, swept the board talking the gold and silver medals and both the Club and Group team medals - Kevin Tye, Andrew Meilak, and Mark Hill. Yes, Ian and Rachael did win the tandem championship. Results as follows;
Women:
Linda Dewhurst 33:33/AAT 26:00
Claire Emons 33:23/AAT 27:48
Deborah Sheridan 36:27/AAT 28:24
Men:
Kevin Tye 29:54/AAT 27:04
Andrew Meilak 29:17/AAT 27:09
Neil Mackley 29:56/AAT 27:17
Tandem:
Ian Greenstreet & Rachael Elliott 28:22/AAT 25:07
Club Team:
VeloRefined Rule 5 (Tye/Meilak/Mark Hill) 1:23:45
Group Team:
Kent Group (Tye/Meilak/Hill) 1:23:45
A special mention to Paul Burton who finished fastest on scratch (28:00) equating to 27:47 (5th on AAT)
Note that official photographs were being taken by Russ Way and can be found at https://wayforwardphotography.pixieset.com/vtta15milecha.../
Our thanks to East Anglia Group and the Cambridge CC who ran a textbook event today, expertly stewarded by Chris Dyason. Chris also rearranged the. entire event after strong winds forced a postponement. The VTTA are very grateful for the time taken to rerun the event so successfully.
Pictured above are the medaliists - Linda Dewhurst, Claire Emons, Rachael Elliot, Mark Hill, and behind Neil Mackley, Ian Greenstreet, Kevin Tye, and Andrew Meilak, (and apologies to Deborah Sheridan)