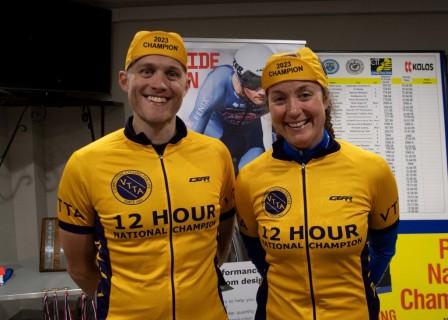 We are pleased to report that the confirmed result of the 12 hour championship has now been released by CTT following a complaint, and the subsequent enquiry and appeal processes.
With last year's defending champions not entering, there was plenty of new competition. The men's championship was a close-run affair with just over 3 miles covering the podium places and the final distances in doubt until the last moments. Addform Vive le Velo's Richard Sharp took his first VTTA championship win with an age adjusted distance (AAD) of 296.36 from Tom Thornely (FTP RT), an AAT of 295.67, and Andrew Whiteside (Springfield Financial RT), an AAT of 293.21. Andrew also led his clubmates Theresa Taylor and Paul Russell, to the club team award.
With an age adjusted distance (AAD) of 291.70m (263.13m actual, and fourth best overall) it was West Group's Kim Barfoot-Brace who took the gold medal and VTTA champion's jersey in the Women's championship, repeating her 2021 championship win, from Theresa Taylor's AAD of 264.15m.
From the five group teams, local boys Dave Williams, Alan Broadbent and Arthur Winstanley from Merseyside Group took the spoils with an aggregate AAD of 846m to Yorkshire's 827m.
The tandem championship was a classic affair. The vastly experienced multiple champions and record holders, Norman Harvey and Mary Corbett, on their tandem trike faced local novices Brigid Night and Hannah Fawcett in their first tandem race as a pair (after only 140 miles riding together). After sterling performances by both couples in far from easy conditions, it was the Merseyside pair who prevailed with an AAD of 286m to 266m. Both pairs set new age records for their class in the process. The very essence of what the VTTA is all about.
This was the first promotion of the 12 by Roger Squire, and his West Cheshire team. Very well done to Roger and the results team for working tirelessly to produce a result on the day (just) with a presentation before everyone had gone home. It's just sad that the subsequent complaint events slightly diluted the achievements of both the riders and the organising team but there will be many tales told of this championship at coffee stops over the coming months