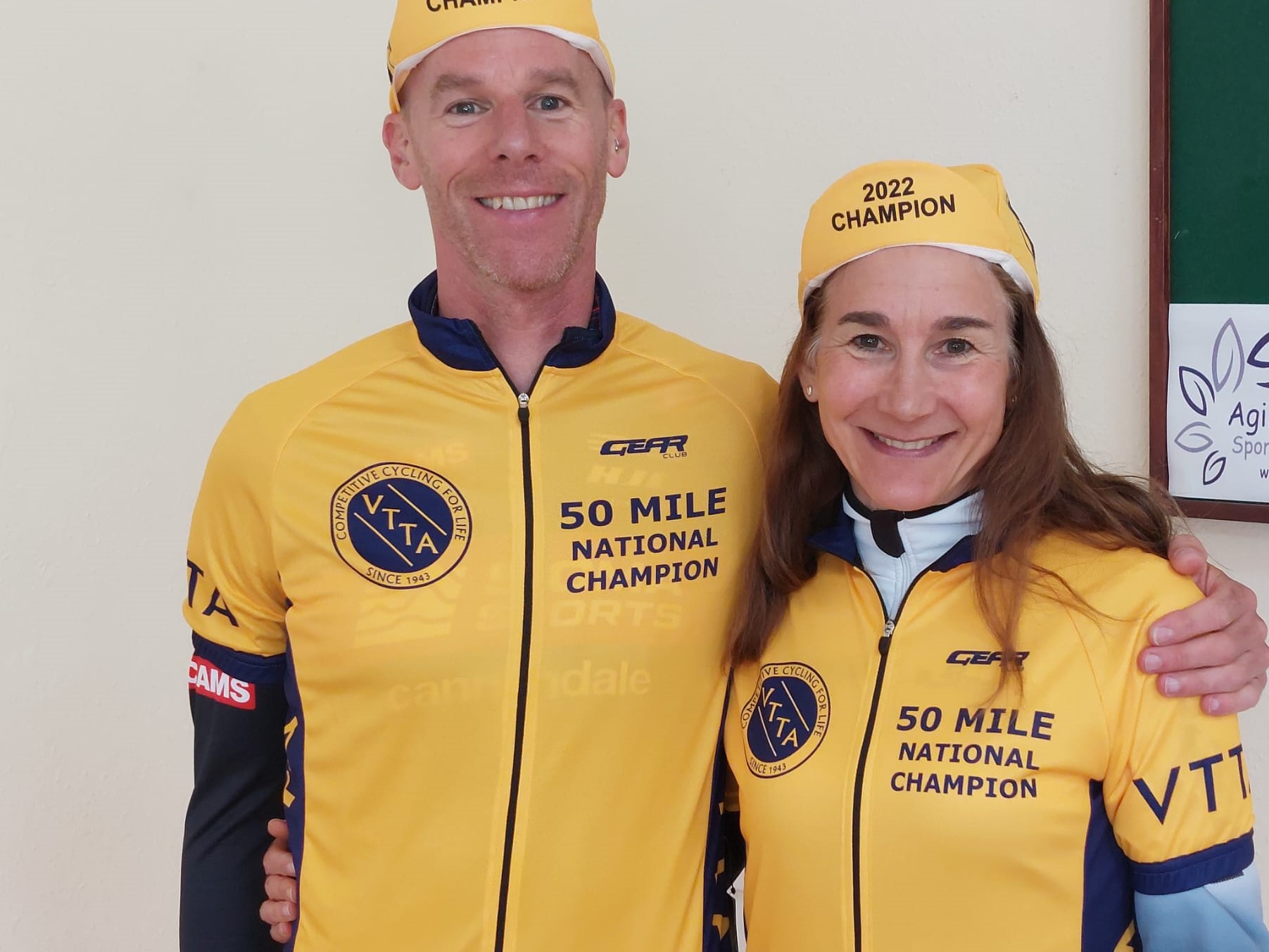 The 50 Mile Championship saw some very fast times on an afternoon that was warm, sunny and dry. A southerly breeze, however, was quite gusty at times, and made conditions less than ideal. The R50/1B course features two laps between Abergavenny and Monmouth, mainly on dual carriageway but with a rolling 5 mile section on a country road that adds to the challenge.
The men's championship was a very tight finish with the top three within just 31 seconds of each other on standard and Vets Handicap Result (VHR). Christopher McNamara (Nuun-Sigma Sport-London RT) took the gold medal with the fastest actual time on the day of 1:39:54, only 38 seconds short of the course record. Silver went to Keith Ainsworth (Lindsey Roads Cycling Club), a specially commendable ride given his recent return from a training accident, and bronze went to David Shepherd (..a3crg). Their VHR times were 1:37:08, 1:37:22, 1:37:39. A very close finish indeed!

In the women's championship Angela Carpenter continued her unbeatable form with a stunning time of 1:49:24 giving her a VHR of 1:30:30. This was a new course record and a Welsh record by more than 2 minutes. Angela's fellow ..a3crg team members Claire Emons and Sarah Matthews took the silver and bronze medals respectively giving them a clean sweep of the podium.
There were only two tandems with another win by Ian Greenstreet and Rachel Elliott (Newbury Velo) with 1:44:15 to take the Tandem Championship. They set a new mixed tandem course record and also a Welsh 50 mile record by more than 20 minutes.

The Championship Group Team winners were Wessex (A Carpenter, D Shepherd, C Emons) with an aggregate plus of 1:51:16 (VHR of 4:52:26) with Surrey/Sussex the runners up. Seven VTTA groups fielded a team of at least three riders on the day. The same three riders also took the Club Team award for …a3crg with Team Echelon and Legato Racing Team finishing second and third. It's good to see some club teams making a special effort to compete for the Club Team award in our national championships. While the individual awards tend to take the focus in our national championships it would be good to highlight these teams awards more as they give opportunity to more riders to win a national medal or to finish on the 'podium'.
Finally, our thanks to Bob Jones and the Bike-pace team for running this championship for the VTTA.