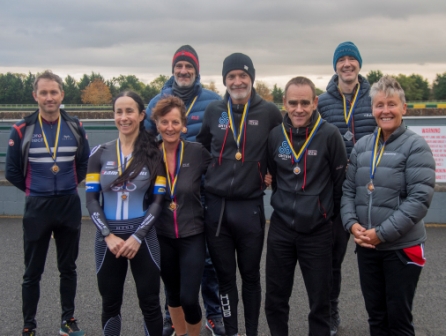 The VTTA have explored opportunities to provide further and more varied competition for members and have been keen to reach out to non-members, aware that the majority of time trial fields are now made up of the over-40s but a significant proportion are not members. As a consequence the Veterans' National Closed Circuit 10 Mile Championship was held on the Croft Motor Racing Circuit, near Darlington, and unlike our established events this championship was open to all veterans. This was a pilot event with the idea to run both southern and northern championships in future years. Age adjusted results were provided using the vets' handicap system.
Organised by Gavin Russell, probably the hardest working official in time trial sport, and with assistance from Cleveland Coureurs and other Teesside clubs, it proved to be a resounding success. This organising team have run a series of time trials on the Croft circuit for several years and now attract large fields for their "Come and Try It" events; many riders are complete novices and they operate a lower age limit of 6! They always include a separate competition for road bikes (ie not TT low profile machines with disc wheel etc) and did so for this event. There were VTTA medals on offer for both male and female in 'open' and 'road bike' categories.
The typical late October weather was uninviting, cold and windy although thankfully the earlier rain had stopped; this resulted in 24 of the 93 advance entrants failing to start, but on the plus side there were 7 further entries on the day. So of a total entry of 100, 47 were existing members and 53 were potential members. For many of the further travelled riders this was their first chance to ride a closed circuit time trial and all seemed to revel in the experience.
Pictured above are medal winners: Shaun Tyson, Angela Hannon-Flaherty, Janet Fairclough, John Blomeley (behind), Richard Oakes, Mike Twelves, Doug Watson (behind), Heather Gould.
Winners in the various categories were:
Men time trial bikes - 1st Richard Oakes (Team Ohten Aveas / N&EM Group) 19:32, 2nd Mike Twelves (Team Ohten Aveas / N&EM Group) 20:09, 3rd Marcel Schubert (Darlington CC / North Group) 20:42
Women time trial bikes - 1st Liz Ball (Valley Striders CC / Yorkshire Group) 21:13, 2nd Angela Hannon-Flaherty (Seacroft Whs) 21:37, 3rd Miriam Rennet (Kinross CC / Scotland Group) 22:25
Men road bikes - 1st Shaun Tyson (Protech Velo / North Group) 21:56, 2nd Douglas Watson (GTR - Return to Life) 22:02, 3rd John Blomeley (Yorkshire RC) 22:03
Women road bikes - 1st Janet Fairclough (Liverpool Phoenix CC (Aintree) / Merseyside Group) 24:32, 2nd Karen Haldane (Derwentside CC) 29:28, 3rd Heather Gould (North Shields Polytechnic Club) 30:15
Here is the TT Bike Result (in Vets' Handicap order)
| | | | | | | | |
| --- | --- | --- | --- | --- | --- | --- | --- |
| VH Pos. | Name | Club | Gdr | VTTA Group | Age | Act. Time | VH Time |
| 1 | Richard Oakes | Team Ohten Aveas | M | N&EM | 52 | 20:27 | 19:32 |
| 2 | Mike Twelves | Team Ohten Aveas | M | N&EM | 58 | 21:40 | 20:09 |
| 3 | Marcel Schubert | Darlington CC | M | North | 40 | 20:42 | 20:42 |
| 4 | Chris Smart | GTR - Return To Life | M | | 40 | 20:49 | 20:49 |
| 5 | Michael Cross | Harrogate Nova CC | M | Yorks | 59 | 22:50 | 21:12 |
| 6 | Liz Ball | Valley Striders CC | Fem | Yorks | 68 | 26:54 | 21:13 |
| 7 | Wayne Coates | Team Bottrill | M | North | 62 | 23:16 | 21:16 |
| 8 | Craig Horseman | Beacon Wheelers | M | NL&L | 47 | 21:47 | 21:17 |
| 9 | Adrian Dent | Team Ohten Aveas | M | North | 60 | 23:12 | 21:27 |
| 10 | Angela Hannon-Flaherty | Seacroft Whs | Fem | | 52 | 25:06 | 21:37 |
| 11 | Paul Sander | Stockton Wheelers CC | M | | 66 | 24:13 | 21:40 |
| 12 | Simon Horsley | Legato Racing Team | M | NL&L | 57 | 23:19 | 21:55 |
| 13 | David Leckenby | VTTA (Yorkshire) | M | Yorks | 58 | 23:30 | 21:59 |
| 14 | Mick Flaherty | Seacroft Whs | M | | 59 | 23:41 | 22:03 |
| 14 | Ian Richardson | Selby CC | M | Yorks | 59 | 23:41 | 22:03 |
| 16 | Neil Withington | Beacon Wheelers | M | | 42 | 22:27 | 22:19 |
| 17 | Miriam Rennet | Kinross CC | Fem | Scot | 59 | 26:42 | 22:25 |
| 18 | Ian Swinscoe | RAF Cycling Ass'n | M | Yorks | 52 | 23:27 | 22:32 |
| 19 | Ian Hutchinson | Cleveland Wheelers CC | M | North | 66 | 25:08 | 22:35 |
| 20 | Terry Parvin | Ferryhill Whs | M | North | 61 | 24:32 | 22:40 |
| 21 | Jymmy Trevor | Jem Hadar Racing | M | Yorks | 49 | 23:22 | 22:42 |
| 22 | Ian Hampton | Clifton CC York | M | Yorks | 67 | 25:27 | 22:44 |
| 23 | Ian Taylor | Blumilk.com | M | | 46 | 23:11 | 22:45 |
| 24 | Peter Gunn | Cleveland Wheelers CC | M | | 47 | 23:16 | 22:46 |
| 25 | Malcolm Steer | Darlington CC | M | | 56 | 24:13 | 22:55 |
| 25 | Andrew Smith | VC Glasgow South | M | Scot | 56 | 24:13 | 22:55 |
| 25 | Mark Burtonshaw | Harrogate Nova CC | M | Yorks | 63 | 25:03 | 22:55 |
| 28 | Kate Sanderson | Cleveland Wheelers CC | Fem | | 53 | 26:37 | 23:02 |
| 29 | Chris Taylor | Holmfirth C C | M | | 44 | 23:28 | 23:11 |
| 30 | Daryl May | Sheffrec CC | M | N.Mids | 47 | 24:07 | 23:37 |
| 31 | Stewart Yates | Holmfirth C C | M | | 61 | 25:48 | 23:56 |
| 32 | Peter Greenan | Ferryhill Whs | M | | 54 | 25:09 | 24:03 |
| 33 | Duncan Smart | Scarborough Paragon CC | M | Yorks | 53 | 25:05 | 24:04 |
| 34 | Daniel Hornsby | Swift Racing | M | | 40 | 24:17 | 24:17 |
| 35 | Michelle Highfield | Berwick Wheelers CC | Fem | Scot | 55 | 28:11 | 24:23 |
| 36 | Richard Durham | Settle Wheelers | M | Yorks | 67 | 27:09 | 24:26 |
| 37 | Keith Storey | Seacroft Whs | M | Yorks* | 60 | 26:13 | 24:28 |
| 38 | David King | Ferryhill Whs | M | | 75 | 29:06 | 24:52 |
| 39 | Paul Hickman | Malton Whs | M | | 51 | 25:55 | 25:05 |
| 40 | Dave Carrick | Holmfirth C C | M | | 60 | 27:16 | 25:31 |
| 41 | Andy Harland | Darlington Tri | M | | 54 | 26:41 | 25:35 |
| 42 | Mark Bartley | Cambridge CC | M | | 49 | 26:36 | 25:56 |
| 43 | Gareth Shepherd | Bramley Wheelers CC | M | Yorks | 45 | 26:36 | 26:15 |
| 44 | Phil Wright | Hartlepool CC | M | North | 66 | 28:59 | 26:26 |
| 45 | Ronnie Thompson | Derwentside CC | M | North | 83 | 33:11 | 26:39 |
| 46 | Erica Short | Darlington Cycling Club | Fem | | 73 | 33:33 | 26:50 |
| 47 | Andy Delaney | Northumbria Police C.C. | M | North | 53 | 28:43 | 27:42 |
| 48 | Peter Richardson | Swift Racing | M | | 43 | 28:16 | 28:03 |
Here is the Road Bike result (in Vets' Handicap order)
| | | | | | | | |
| --- | --- | --- | --- | --- | --- | --- | --- |
| Pos'n | Name | Club | Gdr | VTTA Group | Age | Actual Time | H/c Time |
| 1 | Shaun Tyson | Protech Velo | M | North | 50 | 22:41 | 21:56 |
| 2 | Douglas Watson | GTR - Return To Life | M | | 48 | 22:37 | 22:02 |
| 3 | John Blomeley | Yorkshire Road Club | M | | 60 | 23:48 | 22:03 |
| 4 | David Nichol | Ferryhill Whs | M | North | 69 | 26:17 | 23:15 |
| 5 | John Flanagan | Moonglu CC | M | | 62 | 25:44 | 23:44 |
| 6 | David Capes | Scarborough Paragon CC | M | | 68 | 26:42 | 23:50 |
| 7 | David Deacon | Protech Velo | M | | 56 | 25:31 | 24:13 |
| 8 | Janet Fairclough | Liverpool Phnx CC (Aintree) | Fem | Mersy | 61 | 29:05 | 24:32 |
| 9 | David King | Ferryhill Whs | M | | 75 | 29:06 | 24:52 |
| 10 | Joe Applegarth | Durham Triathlon Club | M | | 81 | 31:20 | 25:28 |
| 11 | Paul Noton | Drighlington BC | M | | 51 | 26:46 | 25:56 |
| 12 | Andrew Robertson | Holmfirth C C | M | | 57 | 28:02 | 26:38 |
| 13 | Steve Milburn | Gosforth RC | M | | 46 | 27:14 | 26:48 |
| 14 | Tony Farrell | Westmead Team 88 | M | M&NW | 77 | 31:34 | 26:50 |
| 15 | Richard Bellerby | Harrogate Nova CC | M | | 75 | 31:08 | 26:54 |
| 16 | Howard Heighton | Ferryhill Whs | M | North | 48 | 27:58 | 27:23 |
| 17 | Ian MacKenzie | Durham Triathlon Club | M | North | 70 | 30:55 | 27:42 |
| 18 | Graham Lloyd | Halifax Imperial Wheelers | M | | 59 | 29:57 | 28:19 |
| 19 | Paul Smith | Huddersfield Star Whs | M | | 43 | 28:42 | 28:29 |
| 20 | Paul Dawson | VTTA (North) | M | North | 60 | 32:33 | 28:44 |
| 21 | Karen Haldane | Derwentside CC | Fem | | 55 | 33:16 | 29:28 |
| 22 | Heather Gould | North Shields Poly Club | Fem | | 60 | 34:40 | 30:15 |
| 23 | Caroline Heighton | Ferryhill Whs | Fem | North | 43 | 33:02 | 30:21 |
| 24 | Michael Hutchings | Harrogate Nova CC | M | | 55 | 33:08 | 31:56 |
| 25 | John Bedford | Holmfirth C C | M | | 76 | 37:50 | 33:21 |