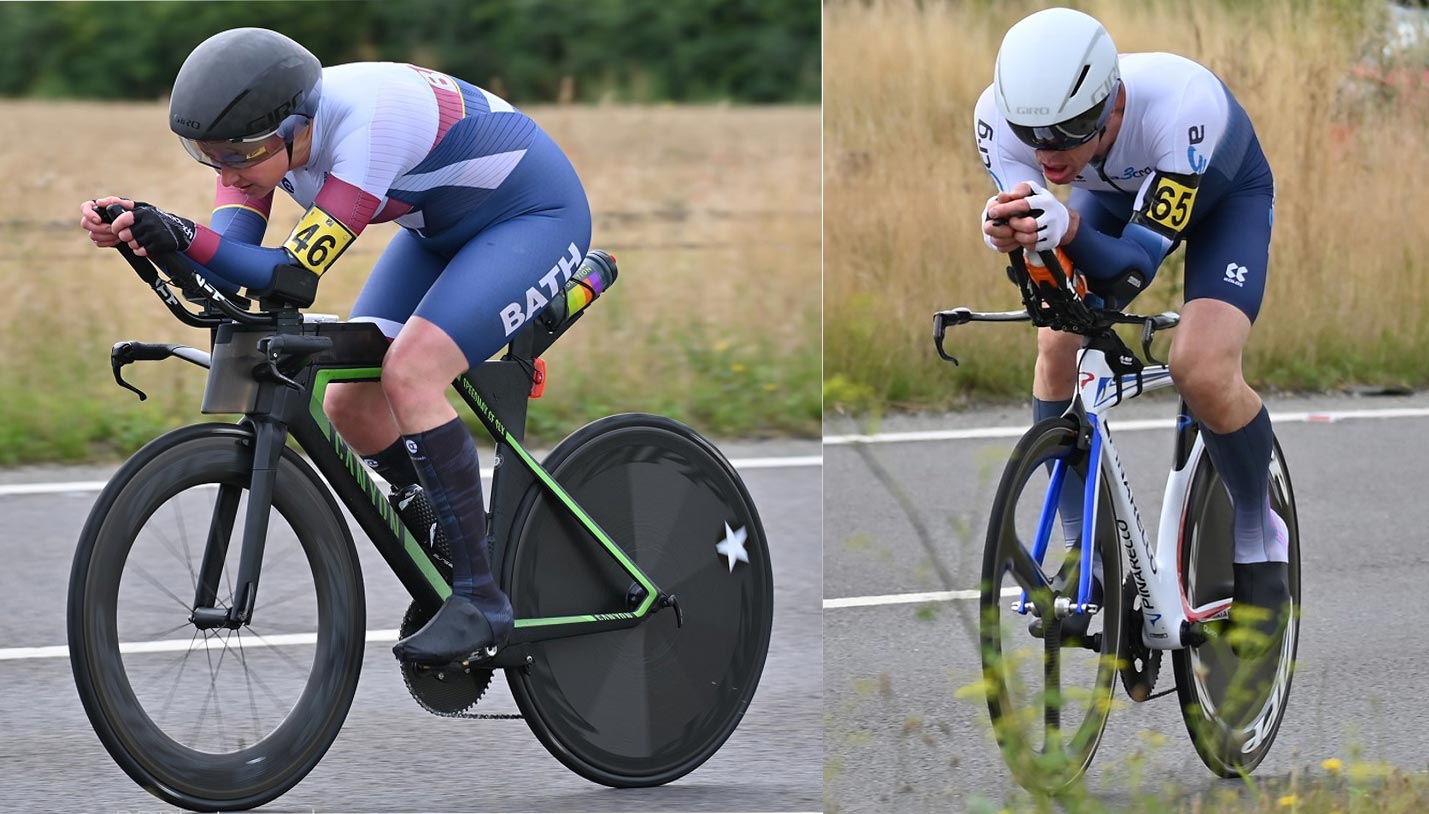 Report by Jon Fairclough, NEC Representative.
The 2021 RTTC/VTTA National 12 hour Championship took place on 1st August on course B12/4. The riders started at 6 am with the sun in their eyes. Unfortunately, the weather forecast was not accurate and soon grey skies appeared, followed by showers, and the breeze strengthened. Nevertheless, there were some very fast rides with 12 of the 71 starters going over 300 miles. Five National Age Records were set (subject to ratification).
David Shepherd was the winner of the Men's VTTA Championship with a plus of 108.05 miles and a distance of 300.26 miles, a new National Age Record for a 60 year old. To understand this achievement fully, if he were aged 40 years his distance would have been 329.6 miles – his Vet's Handicap Result, or "VHR". This is 15.73 miles further than the fastest National Age Record of 313.87 miles. This is his story of the event.
"At the beginning of the year I decided to have one last attempt at a 12 hour. It would be the Breckland. The long winter rides began at the weekends and Zwift formed the backbone of my after work turbo sessions. Training went well and my numbers were up on last year but when it came to racing I felt for whatever reason I had under performed in most events this year. Suddenly we were at the end of July and I got very nervous ! Had I done enough ? 5,4,3,2,1 the time keeper said and as I pushed off I said to myself "Ok let's do it one last time". As soon as I turned the pedals the nerves left me and I relaxed into the ride. The plan was to focus on each 10 mile leg and not look beyond that. Stay in the zone and collect food and drink from Angela at Eccles on each lap. John was at Mulbarton to cover any mistakes. Light rain began to fall early on and I remember thinking how nice it felt on my skin. Over-heating has always been a problem for me in long distance events so this was perfect! Then it all changed and as I headed back to Mulbarton black skies loomed in the distance . By the time I got there it was pouring and eating became difficult. I struggled to free the bag that was stuffed down my skinsuit and managed to take a piece of flapjack, then hit a bump, and it flew into the air. I tried again not once moving off the tribars and this time was successful. The return leg to Eccles was bad with a fair amount of spray coming from the increasing volume of traffic. Suddenly it wasn't about over-heating it was about staying warm. Luckily it didn't last too long and I went through 100 miles in 3:52 which was bang on schedule. Soon after I got sent onto the second circuit with Angela staying at Eccles and John moving to Croxton. Next big time check was at 6 hours. I was almost 3 miles up on last year with 154 displayed on my Garmin and I still felt good . Keep pushing, stay focused and stay aero I kept telling myself. By this time Flapjack and Hot cross buns were out and sweets were in. Snakes and Jelly babies!! I had estimated to stay on the Croxton circuit until 4:30 pm but got sent onto the finishing circuit at around 3:45 pm .Momentarily my heart sunk as I knew my average speed would plummet on the 10 mile loop but this was no time for negativity, 300 miles was still just possible. This was going to hurt!! After one lap my average dropped. I still felt really strong and was lapping consistently in about 25 minutes. Lap after lap I forced mind and body to keep pushing out the power and block out the pain. I liked the finishing circuit but my speed was dropping too close to the 25 mph average speed I needed. I started my last lap with 15 minutes remaining and rode as hard as I could. At Spooner Row Angela shouted: "10 minutes". I got to time-keeper 6 but wasn't sure if my time was up so rode on to 7. The pain hit me and I slowly free-wheeled into a layby. I remember Angela coming to me asking me what I had done. When I said "300 I think we both cried. I couldn't get off the bike and for a few minutes didn't really know what was going on. We had done it .Me and my team. Angela Carpenter and John Glaysher, I thank you both for giving up your weekend and helping me to a life-time best. I still find it hard to believe that after over twenty 12hr races and at the age of 60 that I can say I rode 300 miles in half a day!"
Andrew Whiteside was second with a plus of 99.05 miles and Tim McEvoy, who had the fastest ride of all, had a plus of 96.16. Derek McMillan set a National Age Record for a 61 year old of 280.21 miles and Mick Stevens set one for a 71 year old of 254.39 miles.
Kimberley Barfoot-Brace won the Women's Championship with a plus of 82.68 miles, with Lisa Davis and Joanna Cebrat in the second and third places with pluses of 75.02 and 71.05 respectively. Kim's distance of 277.90 miles is a National Age Record for a 40 year old. Here's her story of the event.
"I had big dreams/goals going into the National 12Hr TT. I did the Breckland 12Hr for the first-time last year and have become stronger in addition to adjusting my set up. I knew I could get well into the 280s if all went to plan, but a lot of things can go wrong on a bike in 12 hours and I was prepared mentally for that! Unfortunately I wasn't feeling well on the day, asking my support crew for paracetamol on the first turn...from then on, I knew it was going to be a tough day out. After 6 hours, I was hitting my power target and averaging over 24mph, but I knew that wouldn't last based on how I was feeling. I concentrated on 'the moment' staying aero and moving forward. I looked at my 'overall ride' on my computer for the 2nd time at 10 hours and knew the veteran's record was comfortably in the bag as long as I stayed shiny side up! My friend Natasha Lewis tragically passed away in April aged 28, following a collision with a car whilst out running, training towards GBR marathon selection. It was her that encouraged me to do the race last year, so it felt appropriate to raise money for the foundation which has been set up in her memory to help athletes fulfil their dreams (goto https://uk.gofundme.com/manage/gogos-12hr-tt-for-the-natasha-lewis-foundation ). My auntie/god mother also unexpectedly passed away this year and she was a big supporter of my sporting endeavours. This made for a particularly emotional race and giving up not an option! The feeling of relief and elation as I finished was overwhelming to say the least. I'm so grateful for my family supporting me throughout the day, and indeed nursing me afterwards. There's no way I could have done it without them! To learn I was the 2nd fastest/furthest woman of all time after Alice Lethbridge, and only 1 of 2 ladies to beat Beryl Burton's 50-year-old record has been pretty mind blowing. I only discovered cycling 6 years ago through the cycle to work scheme, it doesn't feel real! A big thank you to my coach Paul Ransome who has transformed me from Someone who did spin classes to a National Champion. The Breckland event is impeccably organised by Mark Fairhead, with a fantastic team of friendly marshals. There's a real sense of comradery with the other competitors and supporters as you go round in circles all day long. I certainly feel an affinity with this race...and I will be back for more! "
There was one more National Age Record set: Norman Harvey and Mary Corbett have a combined age of 152 and rode their tandem tricycle into probable immortality with a distance of 182.67 miles that I don't expect ever to be broken, except by them! I was also riding the event and saw them smiling all the way to the finish.
Yorkshire won the Group Championship with a combined plus of 294 miles. Congratulations to Darren Yarwood, Michael Cross, Alex Russell. There was no team competing for the Club Championship.
Many thanks to Mark Fairhead and CC Breckland for organising.
VTTA Men's Championship Result
| | | | | | | | | |
| --- | --- | --- | --- | --- | --- | --- | --- | --- |
| Pos | Rider | Age | Club | Group | Flags | PlusD | VHR | Distance |
| 1 | David Shepherd | 60 | ...a3crg | Wessex | | +108.05 | 329.60 | 300.26 |
| 2 | Andrew Whiteside | 47 | Bella in Sella Racing | North Lancashire & Lakes | | +99.05 | 320.60 | 311.56 |
| 3 | Tim McEvoy | 43 | FTP (Fulfil The Potential) Racing | West | | +96.16 | 317.71 | 313.91 |
| 4 | Darren Yarwood | 47 | Chapeau! Vive Le Velo | Yorkshire | | +92.84 | 314.39 | 305.35 |
| 5 | Michael Cross | 59 | Harrogate Nova CC | Yorkshire | | +90.64 | 312.19 | 284.66 |
| 6 | Derek McMillan | 61 | SVTTA | Scotland | | +89.86 | 311.41 | 280.21 |
| 7 | Philip Kennell | 54 | GS Metro | North | | +89.60 | 311.15 | 291.97 |
| 8 | Alex Russell | 46 | City RC (Hull) | Yorkshire | | +85.86 | 307.41 | 299.71 |
| 9 | Mick Stevens | 71 | Melton Olympic CC | Nottingham & East Midlands | | +85.79 | 307.34 | 254.39 |
| 10 | Nick Tarmey | 43 | Velo Club Venta | Wessex | | +83.71 | 305.26 | 301.46 |
| 11 | Stuart Birnie | 42 | Willesden CC | London & Home Counties | | +80.19 | 301.74 | 299.22 |
| 12 | Andy Tucker | 49 | Newbury Velo | London & Home Counties | | +79.04 | 300.59 | 288.80 |
| 13 | Iain Boardman | 47 | Dulwich Paragon CC | East Anglian | | +73.66 | 295.21 | 286.17 |
| 14 | Martin Bullen | 69 | Peterborough CC | North Midlands | | +71.81 | 293.36 | 245.27 |
| 15 | Chris Lea | 59 | Buxton CC/Sett Valley Cycles | North Midlands | | +69.53 | 291.08 | 263.55 |
| 16 | Sean Sanders | 51 | Drighlington BC | Yorkshire | | +64.38 | 285.94 | 271.29 |
| 17 | Philip Jones | 62 | Peterborough CC | East Anglian | | +63.89 | 285.44 | 252.33 |
| 18 | Gavin Richards | 50 | Lewes Wanderers CC | Surrey/Sussex | | +61.43 | 282.98 | 269.78 |
| 19 | Chris Shaw | 58 | Fenland Clarion CC | East Anglian | | +60.52 | 282.07 | 256.30 |
| 20 | Simon Bowller | 58 | Berkhamsted Cycling Club | London & Home Counties | | +58.42 | 279.97 | 254.20 |
| 21 | Gary Simpson | 53 | Yorkshire Road Club | Yorkshire | | +57.98 | 279.53 | 261.90 |
| 22 | Jon Fairclough | 67 | Woking Cycle Club | Surrey/Sussex | | +57.82 | 279.37 | 235.87 |
| 23 | Philip Elms | 56 | Bishop's Stortford CC | London & Home Counties | | +51.59 | 273.14 | 250.75 |
| 24 | Miles Haslam | 62 | Buxton CC/Sett Valley Cycles | North Midlands | | +51.40 | 272.95 | 239.84 |
| 25 | Daryl Stroud | 56 | Gloucester City Cycling Club | West | | +51.12 | 272.67 | 250.28 |
| 26 | Jez Willows | 56 | Sherwood CC | Nottingham & East Midlands | | +47.78 | 269.33 | 246.94 |
| | Adam Laycock | 54 | VTTA (East Anglia Group) | East Anglian | dnsa | | | |
| | Angus Wilson | 52 | Team Andrew Allan Architecture | Scotland | dnf | | | |
| | Chris Tye | 54 | Plomesgate CC | East Anglian | dnsa | | | |
| | Dave Green | 57 | CC Breckland | East Anglian | dnf | | | |
| | John Hollier | 46 | PDQ Cycle Coaching | West | dnf | | | |
| | Steve Burrows | 62 | Vive Le Velo | Yorkshire | dnf | | | |
VTTA Women's Championship Result
| | | | | | | | | |
| --- | --- | --- | --- | --- | --- | --- | --- | --- |
| Pos | Rider | Age | Club | Group | Flags | PlusD | VHR | Distance |
| 1 | Kim Barfoot-Brace | 40 | Bath Cycling Club | West | | +82.68 | 304.23 | 277.90 |
| 2 | Lisa Davis | 46 | DRAG2ZERO | Surrey/Sussex | | +75.02 | 296.57 | 263.41 |
| 3 | Joanna Cebrat | 42 | Bury Clarion CC | Manchester & North West | | +71.05 | 292.60 | 264.03 |
| 4 | Amanda Lane | 41 | Bynea Cycling Club | South Wales | | +59.07 | 280.63 | 253.18 |
| 5 | Lisa Hall | 43 | Ride Harder | East Anglian | | +49.06 | 270.61 | 240.91 |
VTTA Tandem Championship Result
| | | | | | | | |
| --- | --- | --- | --- | --- | --- | --- | --- |
| Pos | Names | Age | Clubs | Groups | Distance | PlusD | VHR |
| 1 | Norman Harvey & Mary Corbett | 152 | Sotonia CC | Wessex | 182.67 | +53.74 | 284.15 |
VTTA Group Championship Result
Pos

Group

Total PlusD

Total VHR

Rider

Age

Club.

PlusD

VHR

1

Yorkshire

269.34

933.99

Darren Yarwood

47

Chapeau! Vive Le Velo

+92.84

314.39

Michael Cross

59

Harrogate Nova CC

+90.64

312.19

Alex Russell

46

City RC (Hull)

+85.86

307.41

2

West

229.96

894.61

Tim McEvoy

43

FTP (Fulfil The Potential) Racing

+96.16

317.71

Kimberley Barfoot-Brace

40

Bath Cycling Club

+82.68

304.23

Daryl Stroud

56

Gloucester City Cycling Club

+51.12

272.67

3

London & Home Counties

217.65

882.30

Stuart Birnie

42

Willesden CC

+80.19

301.74

Andy Tucker

49

Newbury Velo

+79.04

300.59

Simon Bowller

58

Berkhamsted Cycling Club

+58.42

279.97

4

East Anglian

198.07

862.72

Iain Boardman

47

Dulwich Paragon CC

+73.66

295.21

Philip Jones

62

Peterborough CC

+63.89

285.44

Chris Shaw

58

Fenland Clarion CC

+60.52

282.07

5

Surrey/Sussex

194.27

858.92

Lisa Davis

46

DRAG2ZERO

+75.02

296.57

Gavin Richards

50

Lewes Wanderers CC

+61.43

282.98

Jon Fairclough

67

Woking Cycle Club

+57.82

279.37

6

North Midlands

192.74

857.39

Martin Bullen

69

Peterborough CC

+71.81

293.36

Chris Lea

59

Buxton CC/Sett Valley Cycles

+69.53

291.08

Miles Haslam

62

Buxton CC/Sett Valley Cycles

+51.40

272.95