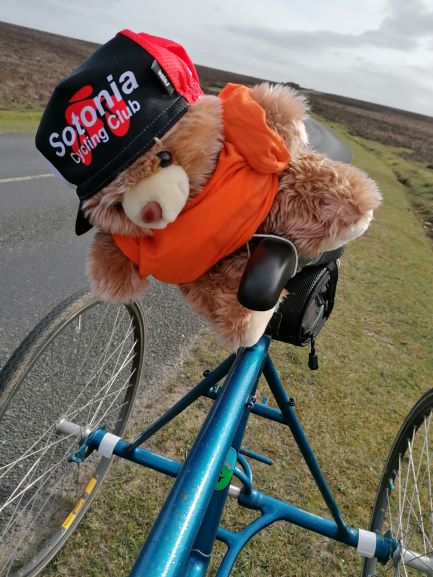 Mary Corbett, the Wessex VTTA group treasurer, has been raising money for ME research by riding tandem time trials with various illustrious partners (not least Jens Voight). Here is the account of her latest adventure with a somewhat unusual partner. If you enjoy the story please consider donating via the link at the end.
The Tandem Tart Challenge
Partner number 63, Teddy the Bear, Sotonia CC
Lockdown CC 10 on the P164c 13 April 2020
Teddy was feeling a bit apprehensive come race day, his quiet little world was about to come crashing down on him – not literally I hoped. Many of us knew just how that felt.
As Teddy doesn't listen to the radio or watch television, I explained to him the difficulties that us humans are experiencing at the moment but told him not to worry and that everything would be alright. I told him that if we saw any other cyclists, runners or walkers, I would be moving away from them by at least two metres (even more if it was safe to do so) and not to be alarmed if I seemed to be steering us into the middle of the road. I also explained to him that the P164c was on our doorstep and that the entire loop was only 15 miles in total. Teddy nodded in approval and with a measure of excitement, got himself kitted out in his cycling regalia ready for our departure.
To continue reading the full story please click here and download 'The Tandem Tart Challenge' in our Documents section
www.justgiving.com/InTandemWithMe