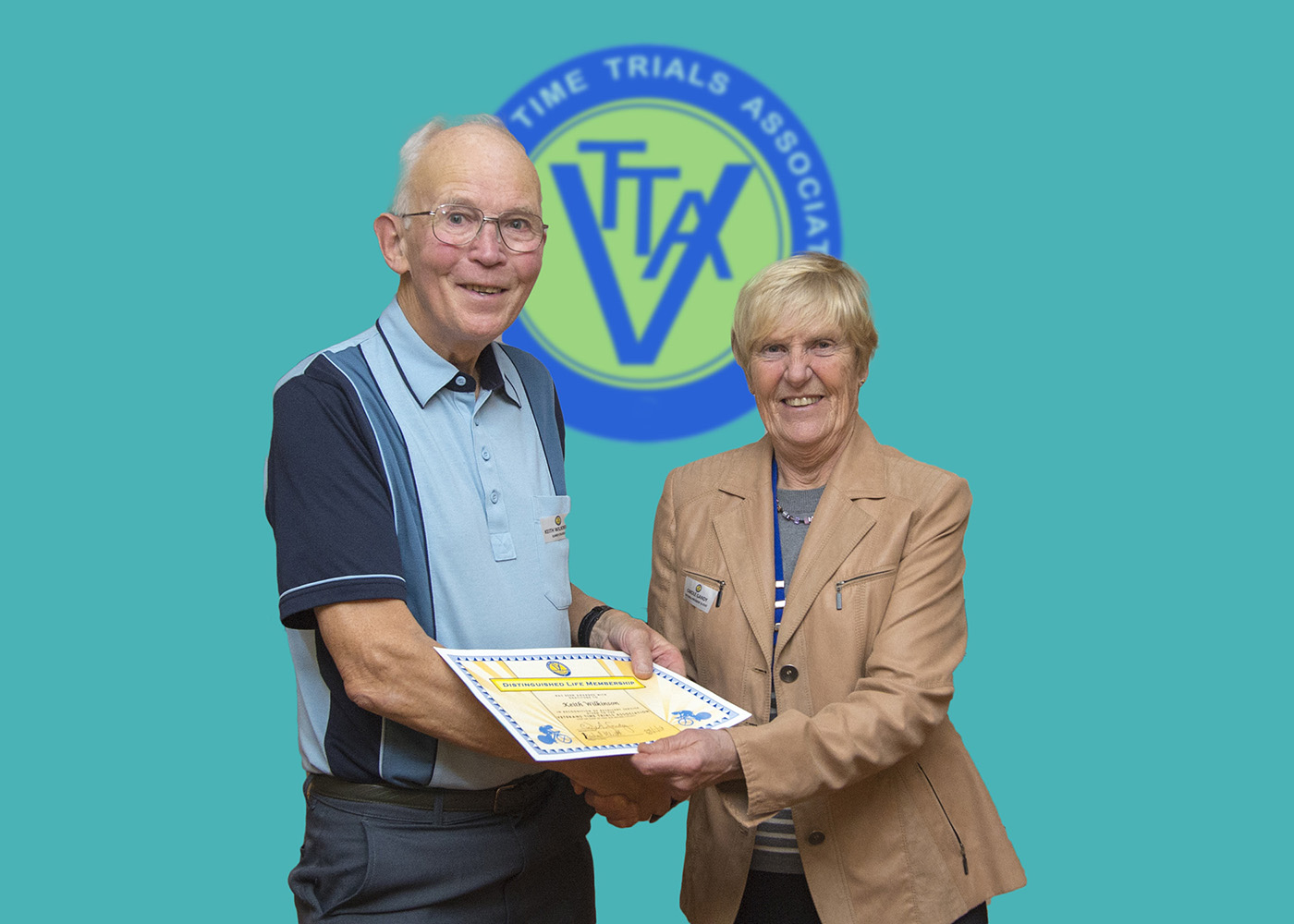 Keith Wilkinson of Surrey & Sussex is presented with Distinguished Life Membership by President Carole Gandy.
This year we relocated to St John's Hotel in Solihull for our annual get together. The more central location and easy accessibility resulted in attendance being slightly up on recent years.
The proceedings commenced with a workshop on the new website and on-line membership system. This was led by our Chairman Andrew Simpkins and Aaron Bird of website developers XNcreations and was well supported by Group delegates. The online membership system will start a live trial with 3 groups in February. Updates on the system will appear on the website in the coming months.
For the Awards Presentation detailed descriptions of the winners' exploits were provided by Rachael Elliott. Among the highlights were the award of the CW Cooke Trophy for the most meritorious racing performance to Ron Hallam, and the Ted Bicknell Trophy for outstanding services to the VTTA over many years to Les Dawson of North Group which was collected by his son, Paul. Keith Wilkinson (Surrey & Sussex) was clearly delighted and honoured by the surprise award to him of Distinguished Life Membership for being the driving force behind his Group for many years. Photographs of the presentation can be viewed and purchased from the Kimroy Photography website.
The AGM then followed. A full report will appear in the March issue of the Veteran. A number of changes to the Constitution, Rules and Regulations were passed and an updated copy is now available on the website. Discussing the annual report the Chairman explained the need for an increase in subscriptions. A three year forward projection showed that a break even situation could be achieved in this period by increasing membership by 250 and the national subscription by £3. It was agreed unanimously to implement the proposed £3 subscription increase for 2019. It was also agreed that (paid for) Life Membership be discontinued with immediate effect, but with existing Life Members to retain their benefits.
Surrey & Sussex wanted to change the membership year end from 31st March to 28th February and the meeting agreed. The argument was put forward that there was a cost in supplying 'The Veteran' to non-rejoiners in March and it also ensured that riders must rejoin before commencing racing (and possibly winning awards in Association events).
Election of officers followed with all sitting incumbents re-elected, with the exception of National Recorder Steve Lockwood, who has resigned. The Chairman called on members to identify potential volunteers for the role of National Recorder.
Overall a positive day which recognised many excellent performances and helped to keep the Association moving forward.