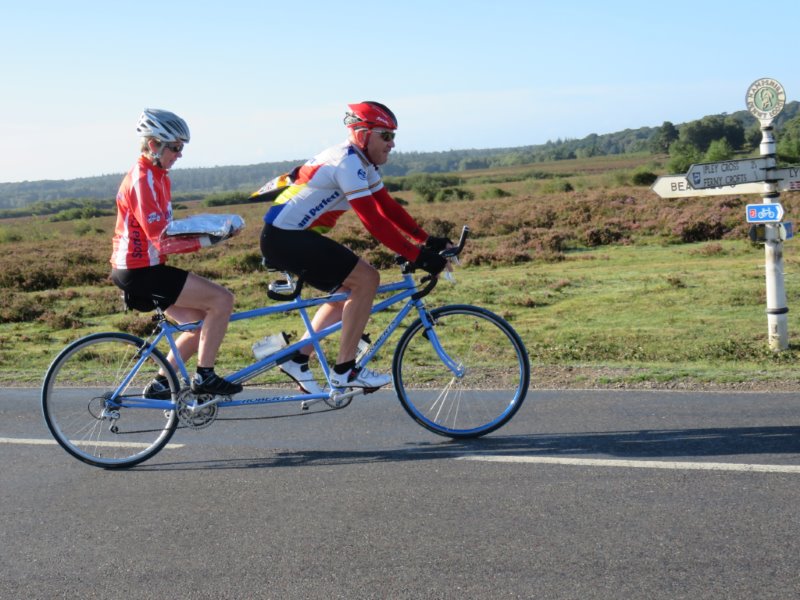 I am the Tandem Tart, not your run of the mill name I agree but one that is attracting much attention and has seen me with 26 different Partners to date and a further 35 on my waiting list. So far I have earned £2,976 from this pastime and my goal is to reach the £12,000 mark. But before you think you have visited the wrong website, let me tell you more.
Towards the end of 2013 I was diagnosed with ME (myalgic encephalomyelitis), a little known condition which affects approximately 250,000 men, women and children in the UK. There is no treatment or cure. Earlier that year I had competed on the back of a tandem at all distances including the Mersey Road Club 24 hour where we set a new National Vets Age Record of 369.474 miles. I will not dwell on the next year or so albeit to say that I felt alone and frightened. During those dark days I vowed that when I was well enough I would do all I could to raise awareness and embark on raising funds for medical research into this devastating condition.
So onto 2016, I was back in the saddle pedalling short distances and sort of managing my ME. I got a bit ahead of myself because I so desperately wanted to ride a 12 hour again that I embarked on a plan to raise £12,000 for doing so. Although my mind was raring to go, it was a task that was far too ambitious for my poor old body. I needed to break this plan down into more achievable goals and so the Tandem Tart Challenge was born, let's see how many different tandem Partners I could race with during the year. To start with I had a list of four potential Partners. As the season progressed and word continued to spread, I had people asking if they could join the 'Tart' Club. By the end of the season I had raced with 16 different Partners with an ever increasing list of suiters, some of them had never been anywhere near a tandem before.
The cycling community consists of wonderful people. I have been truly humbled by the support, encouragement and enthusiasm of my friends and Tandem Tart supporters. My Steersmen have given me some extremely scary moments but they have helped me to keep my spirits up, my mind focused and helped me to remain positive during these difficult times. One overwhelming act of generosity was when a small framed tandem was donated to the TTC to enable female Pilots to join in with the fun.
The World Health Organisation recognises benign ME as a neurological disorder that affects the central nervous system and the immune system. Pioneering research performed by the late Dr Melvin Ramsay continues through the ME Associations Ramsay Research Fund and it is here that my £2,976 (plus gift aid) has been deposited.
My recovery continues to be frustratingly slow but I consider myself to be one of the lucky ones. There are many forgotten people with ME who remain housebound or bedbound for many years, their plight remains unseen. One day I will ride that 12 hour.